Our two Dulwich College International schools, located in the Puxi and Pudong sides of Shanghai, nurture the talents children aged from 2-18. Our schools focus on ensuring every student achieves his or her very best in school and life beyond, which is why all our students develop into confident and well-rounded young people. Our teachers espouse a love of learning and are committed to providing engaging teaching that meets every child's needs. Beyond excellent academics, we offer active co-curricular programmes and warm, friendly school communities marked by the open-mindedness bred of international experience.
Our Curriculum
DUCKS includes Toddler to Year 2 (ages 2 to 7) and provides a purposeful introduction to learning. Children learn communication, listening, problem solving and perseverance.
Junior School is for students 7 – 11 years old (Year 3 – Year 6) and offers a wide range of academic and co-curricular opportunities within a very supportive learning environment.
Senior School includes Year 7 to Year 13 (ages 11 to 18). Our students follow the IGCSE syllabus and the International Baccalaureate Diploma Programme (IBDP).
Learn More
Dulwich College Shanghai Puxi
Dulwich College Shanghai Puxi is located in South Minhang, Puxi and is a state-of-the-art campus, set on 40,000 square meters of green space. We are a co-educational day school, currently catering for students ages 2 to 16 (Toddler to Year 10).
Dulwich College Shanghai Pudong
Dulwich College Shanghai Pudong opened in 2003 and was the first in the Dulwich College International family of schools. We are a co-educational day school for students aged 2 to 18 (Toddler to Year 13).
The Schools at a Glance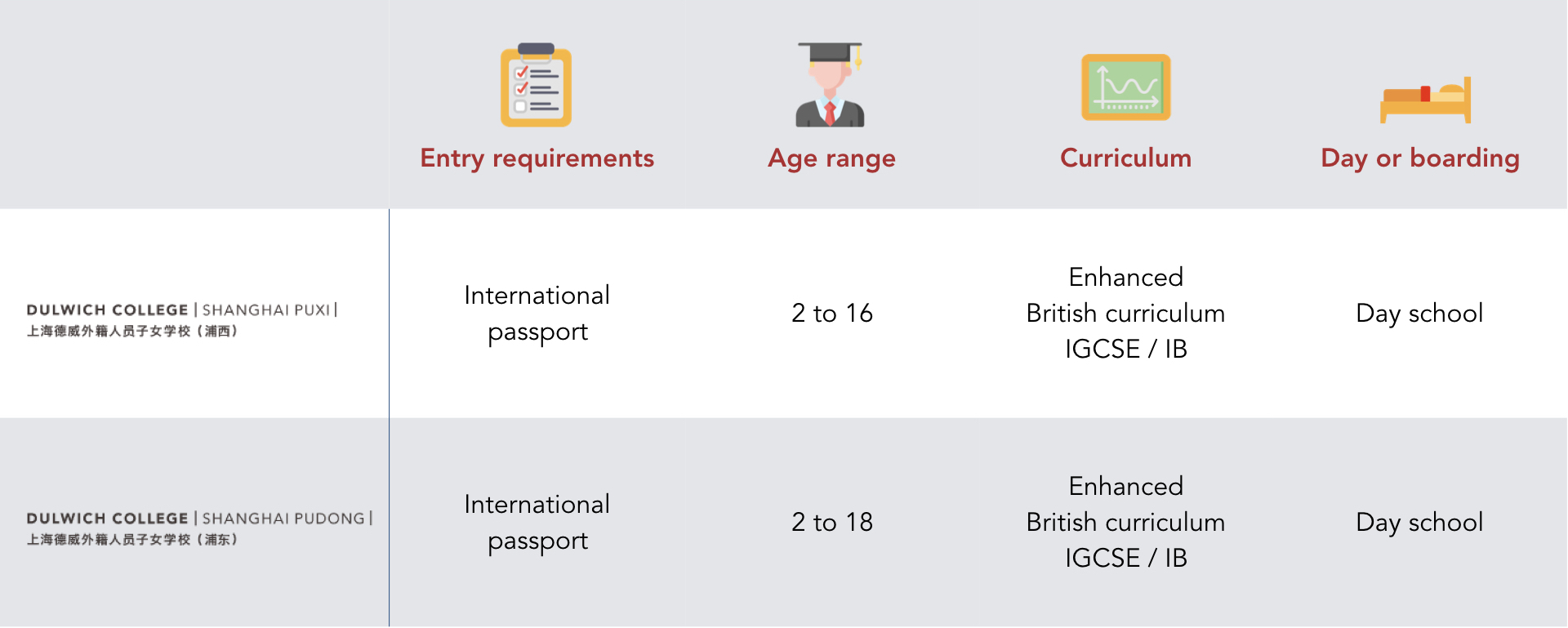 Admissions Criteria
Students wishing to enrol in Dulwich College International schools must hold a foreign passport or foreign birth certificate. Alternatively, if one or both parent(s) hold foreign passport(s), the child is eligible to apply. Where both parents are PRC Nationals, they must provide a waiver letter from the Shanghai Municipal Education Commission giving permission to the student to attend. Please enquire with our Admissions Team if you are unsure about your child's eligibility to attend an international school.
Addresses and Contact
Dulwich College Shanghai Puxi
2000 Qian Pu Jing Road, Maqiao, Minhang District, Shanghai
Dulwich College Shanghai Pudong
266 Lan An Rd, Jinqiao, Pudong, Shanghai