Founded by Parents and Dulwich College
Nearly 400 years after Dulwich College was founded, Fraser White and Karen Yung began looking for a school in Shanghai that would provide for their three young children. They wanted a challenging and ambitious education that would prepare their children for the future, moulding them into confident and well-rounded young people. Beyond academics, they wanted a school community with the open-mindedness and intrepidness bred of international experience, a strong co-curricular programme and the grounding provided by venerable British educational traditions.
Their search came up short. A serendipitous meeting with Graham Able, the then Master of Dulwich College in London, resulted in the idea of opening an international Dulwich College in Shanghai.
Dating back to 1619, Dulwich College is one of the UK's oldest independent schools, and it has a long history of academic excellence, innovation and respect for tradition. Its academic strength was matched by its broad and challenging co-curricular programme in sports, music, visual arts, drama and debate, which were underdeveloped in Shanghai at that time.
As The College had long been a pioneer in education, the Dulwich London Governors embraced the idea and under the leadership of Eddie George, the then Governor of the Bank of England and Chairman of the Governors, Dulwich formed a 100-year global partnership with Fraser and Karen to open international colleges around the world. Dulwich College International was born, the first British independent school to take its practices and ethos to China.
Since the first school in Shanghai in 2003, the Dulwich international family of schools has grown in China and elsewhere in Asia with our students achieving academic results that place them alongside the world's best. They make significant strides in sport and in the arts, graduating to leading universities around the world. Fraser and Karen's children were no exception and have since graduated earning themselves places at Oxford and top universities in the United States.
Education in Motion (EiM)
Dulwich College International schools are part of the wider EiM family.
Read More
Our Founding School
Dulwich College, our founding school, was founded by Edward Alleyn on 21 June 1619 with letters patent from King James I. This historical document, affixed with the Great Seal of England, still survives. An actor linked to Shakespeare's Globe Theatre and an entrepreneur in the world of Elizabethan and Jacobean theatre, Alleyn was a colourful and famous figure of his days. At the age of 47, Alleyn decided to establish a school for boys in London that would provide sound learning, strong artistic pursuits and good manners.
The College has long been a pioneer in education. In the 1880s, Master Canon Carver introduced the "Modern Curriculum" to the College, and in the 1940s the College embarked on the "Dulwich Experiment", admitting students on a needs-blind basis, based on academic ability alone. Today, Dulwich College is an academically selective boys' school, attracting students from the top 15% of the UK academic range. Having built a solid reputation with its strong academics, inspired teaching and educational innovations, Dulwich continues to be a pioneer in eduation, being the first British independent school to take its practices and ethos to Asia. The College has produced leading scientists, actors, film directors, musicians, sportsmen and writers, a number of whom have visited Dulwich College International (DCI) schools to talk of their experiences.
Dr Spence and Deputy Master (External) Cameron Pyke make annual inspection visits to DCI schools, whose teachers and students enjoy close collaboration with their peers from our founding school on academic and co-curricular projects each year.
400 Years of Heritage
Founded in 1619, Dulwich College has a long history of academic excellence, innovation and respect for tradition.
Read More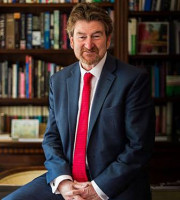 As The Master of the College founded in 1619, I am inordinately proud of the association with our international schools. I believe in them as a commonwealth of schools united behind a single educational philosophy.
- Dr Joseph Spence, The Master of Dulwich College
We celebrated our 400th year anniversary in 2019 with a programme of events and activities that paid tribute to our long history while looking forward to the challenges of the next 100 years. One highlight of the celebration was the Dulwich Olympiad 2019. This annual event brings together a representative body of students from Dulwich College International family of schools to participate in workshops and events, and to showcase their talents in competitions and performances together with students of the founding school in London, Dulwich College.
With its vision and purpose to nurture students who make a positive difference in the world, Dulwich College International is proud to be a part of this 400-year history of innovation and academic excellence.