Our Vision and Purpose
Since the early 2000s, the goals of Dulwich College International have evolved into a Vision and Purpose guided by three pillars, and underpinned by our motto, Detur Pons Mundo.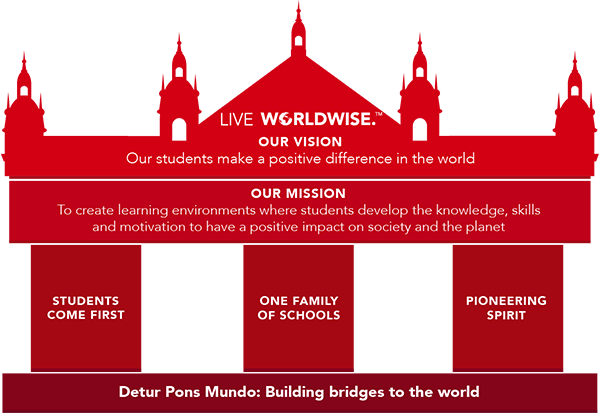 We envision a world where our students are intrinsically motivated and passionate young people who make a positive impact in the world. To this end, we see it as our mission to create opportunities and a learning ecosystem where our students can broaden and enhance their global, social and sustainable literacy to better understand their role in the world to make valuable contributions no matter what pathway they create.
Underpinning everything we do since we began in 2003 are three pillars:
Students Come First - because we were founded by parents who wanted the best for their children, and believe this means designing learning environments with the needs, talents and wellbeing of our students as the focus.
One Family of Schools – because we see the value of building a community for our students and providing a truly international education with unparalleled resources and learning experiences.
Pioneering Spirit – because we know that for our students to thrive in a rapidly-changing world and gain transferable skills that can be applied in diverse contexts, we must consistently seek to improve and innovate ourselves and our educational offering.
Our students are already beginning to make a difference as they enter the worlds of medicine, law, business, technology, the arts and public service. We can't wait to see what they'll do.
See how Dulwich schools cultivate students to 'Live Worldwise'