Andrew Parker delivers the new Shackleton Lectures
"I had a dream when I was 22 that someday I would go to the region of ice and snow and go on and on till I came to one of the poles of the earth."
—— Sir Ernest Shackleton
The Shackleton Lectures, one of the most notable network-wide events held each year, honour the pioneering spirit of Dulwich College Alumnus Sir Ernest Shackleton, a world-renowned Antarctic explorer whose name has become synonymous with courage, bravery, and, most importantly, leadership. The Shackleton Lectures, as part of the Worldwise Events Programme, bring the most fascinating people, such as explorers, adventurers, and educators, to share their stories with students, teachers, and the wider community across the whole network. The lectures reinforce the values of leadership, determination, and courage and put a great emphasis on the UN Sustainable Development Goals and Global Citizenship.
From Academic Year 2022/2023, to offer an elevated event experience and further enhance learning opportunities for the whole community, the Shackleton Lectures will feature 2 lecturers in a new format. Kickstarting this year's lectures are Andrew Parker, a global education campaigner and balloon pilot from New Zealand, and Songqiao Yao, a National Geographic Global Explorer and the founder of WildBound, an innovative sustainability and education venture.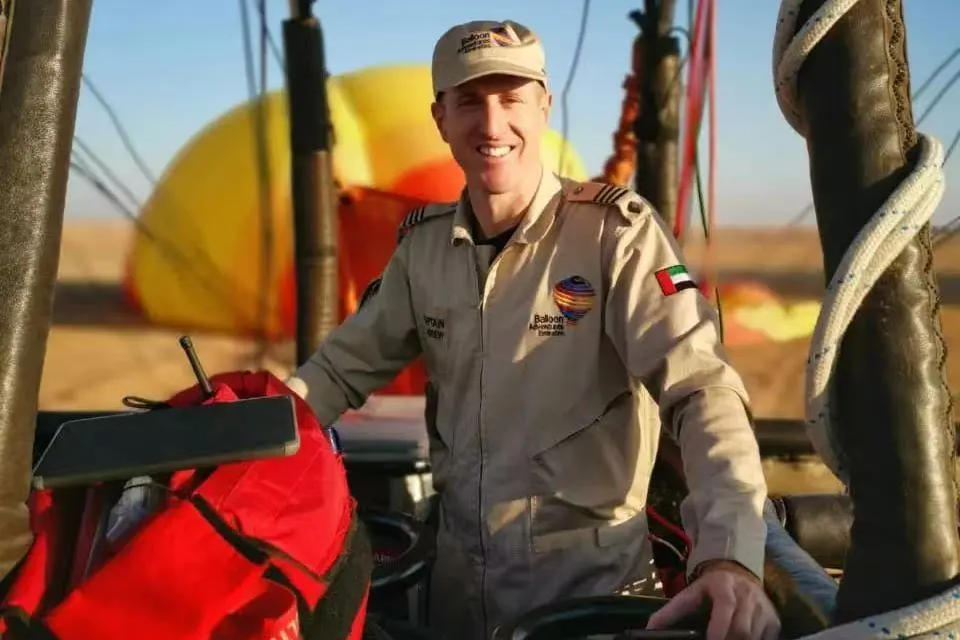 Who is Andrew Parker?
Andrew Parker is a commercial balloon pilot and global education campaigner from Hamilton, New Zealand. He wanted to be a balloon pilot since the age of six, and has flown commercial balloons in exotic locations around the world. He enjoys travelling off the beaten track, visiting new places and learning about different people and their cultures. His passion for ballooning, travel, and inspiring kids led him to start the Flying High for Kids Project in 2013. It involved driving around the world by truck through 87 countries, taking his balloon with him. He flew from schools and locations across the globe, encouraging kids to follow their dreams and stressing the importance of education in order to achieve those dreams. Andrew is now looking forward to helping Kiwi kids reach their potential through the Flying High Project and its educational programme.
Reflecting on his hot air balloon journey around the world, Andrew addresses the importance of being a global citizen and emphasises that it's important to identify our social and environmental impact as well as work out how to improve it:
"We all have different ways of thinking, but if you have an understanding of others and their cultural differences, we can better relate and communicate with each other."
Andrew's sharing encouraged our students to turn their passions into positive change to make a lasting impact on others and society. The lectures also highlighted the significance of critical thinking, problem-solving, asking for help, and how much change happens when lots of people take small actions.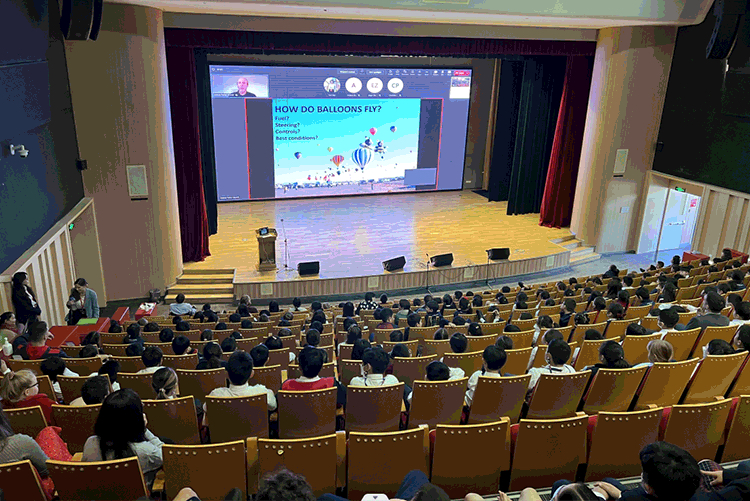 The popularity of Andrew's lectures has raised expectations for our upcoming lecturer — Songqiao Yao, a researcher, adventurer, and entrepreneur from China, who will bring fantastic lectures and workshops in person to a number of schools across the Dulwich and Dehong network.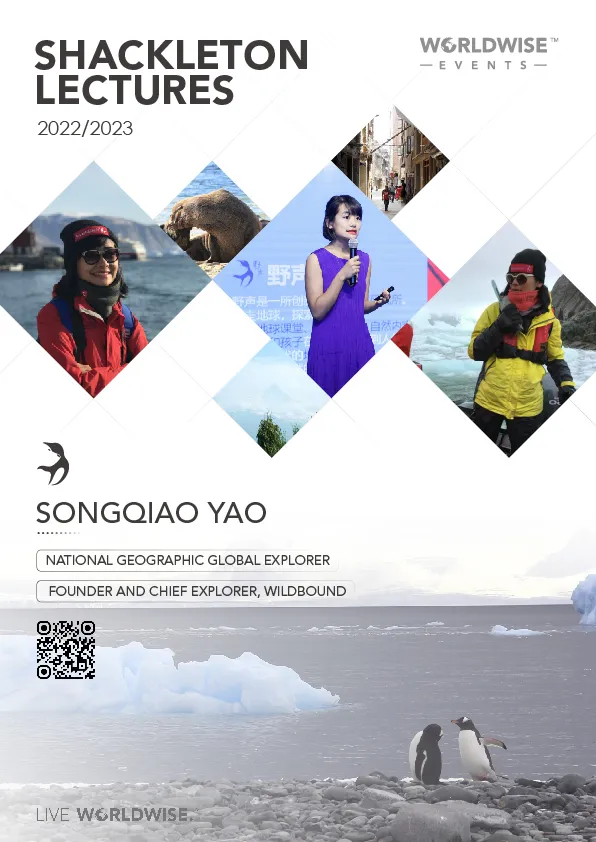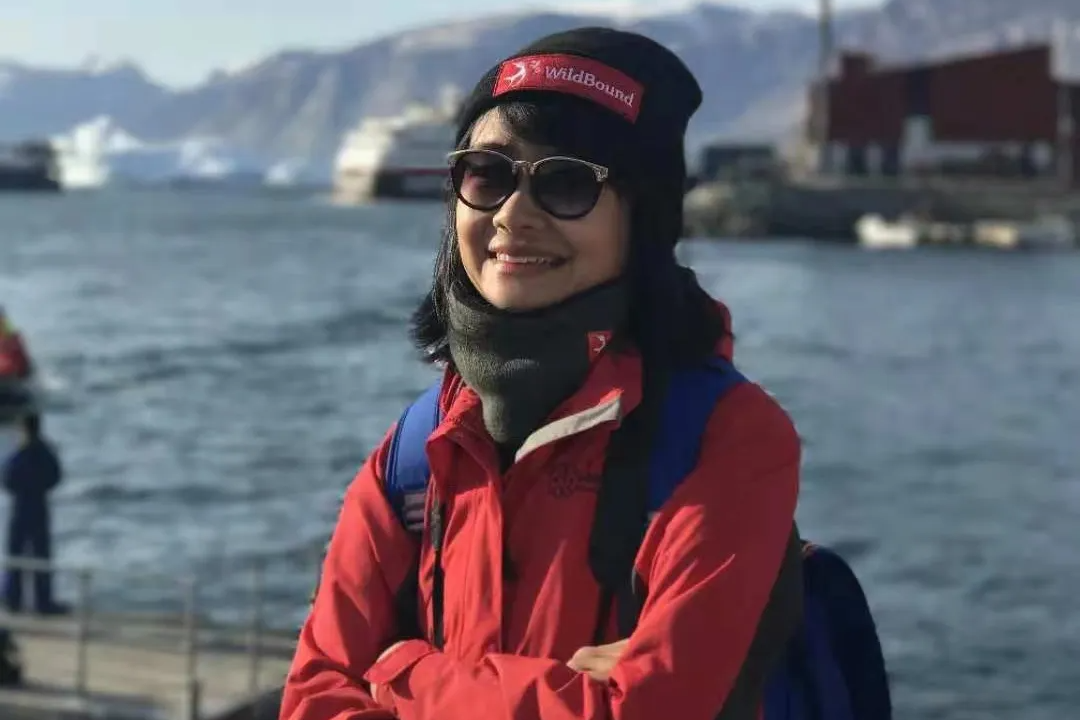 Who is Songqiao Yao?
Songqiao Yao, a National Geographic Global Explorer and the founder of WildBound, an innovative sustainability and education venture that empowers sustainability leadership through expeditions, advocacy, and creative expression. She was the first Chinese participant and faculty member on Homeward Bound, the largest all-female science expedition to Antarctica. Songqiao has over 10 years of interdisciplinary and cross-cultural experience working as a researcher, activist, and entrepreneur on global issues such as food, water, and climate change. She has won a National Geographic Global Explorer grant and conducted research on Asia's biggest rivers, such as the Mekong and Nu-Salween.
Songqiao will focus on the impact of climate change on the unique ecosystem of Antarctica; the history of exploration and conservation; the importance of biodiversity; how to understand, connect with, and protect nature around us; and how to cultivate a mindset of exploration and leadership in today's uncertain world, drawing on lessons from exploration as a female scientist and community-led initiatives around the world.
We are thrilled to see that these engaging, holistic, and experiential learning experiences we offer at Dulwich are providing our students with inspiration and insights. More exciting learning opportunities are on the way for our community in this academic year, so stay tuned and we'll see you at the next one!
Quotes for Shackleton Lecture
"I've been impressed with the attentiveness and curiosity of students, especially in question time after my presentation. We all need to be curious as this helps us learn and discover. I hope that we can all create a positive impact for the environment and people around us. I've also been impressed with how well the schools have been resourced and I hope that students use this to their advantage. As I point out in my presentation, not everyone is so lucky." - Andrew Parker, this year's Shackleton Lecturer
"It was lovely to hear him share his passion, be such a global adventurer, linking it with service and sustainability, linking it to related careers, encouraging everyone to share their passion to make a positive difference, to persevere and ask for help when their truck in life breaks down." - David Massiah, Head of College, Dulwich College Suzhou
"Our students really enjoyed the Shackleton Lectures this year. It has given our students plenty to think about in terms of solving problems such how to make a hot air balloon more environmentally friendly and sustainable. An excellent question that came from one class was whether solar panels could be used to help power a balloon rather than using propane gas. Although propane is greener than most other gases, it still has a carbon footprint, so could solar panels be adapted to be able to be sewn into the envelope of a balloon? Hopefully, our student can inspire each other find solutions to these sorts of problems." - Gill Elrick, Deputy Head of Junior School, Dulwich College Beijing