Dulwich on World Environment Day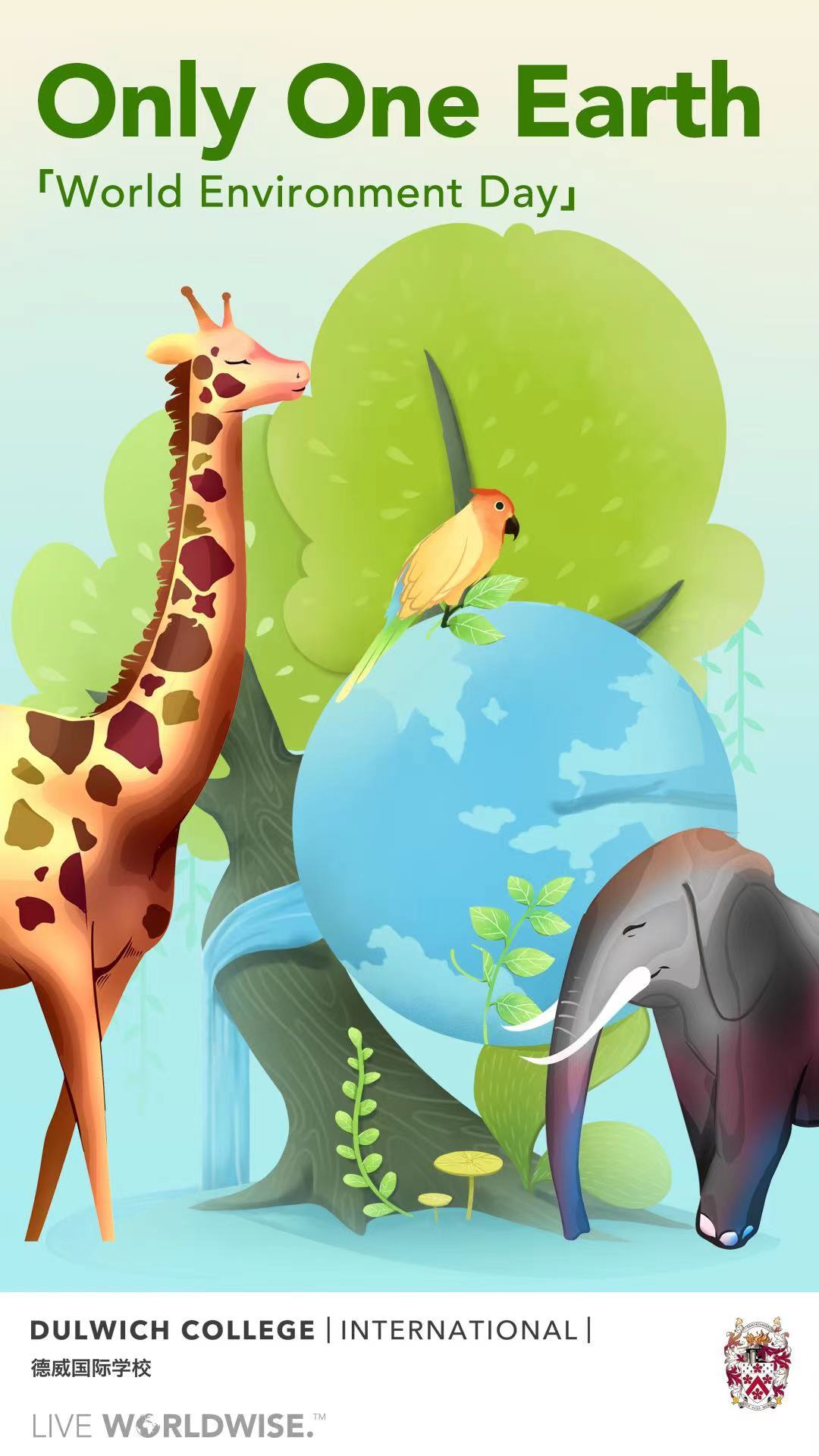 "In the universe are billions of galaxies. In our galaxy are billions of planets. But there is Only One Earth." - UN Environment Programme
We are using the equivalent of 1.6 Earths to maintain our current way of life, and ecosystems cannot keep up with our demands. The gap between what we need to spend to adapt and what we are actually spending is widening. "Only One Earth" is therefore still the 2022 World Environment Day slogan, and we must do our part in making large-scale changes to protect our one Earth.
Sustainability and Global Citizenship are taking root in every Dulwich family member. Some of our efforts are listed below:
Dulwich College Shanghai Puxi: Students, teachers, and other local community members work closely with Hands On Shanghai to clean up local beaches and raise awareness of the ocean and marine life.
Dulwich College Shanghai Pudong: Dulwich College Shanghai Pudong's Own What You Eat (OWYE) event series invited partners such as celebrity chef David Laris to raise awareness about food waste. Students also hosted a plant-based food event for the community and have reduced 20% of food waste across DUCKS, Junior School and Senior School.
Dulwich College Beijing: Our school in Beijing has significantly reduced non-renewable energy usage and energy waste through electric school buses, solar energy and sensor-controlled lights. They also save 8,000 tonnes of tap water every year through using recycled water for plants.
Dulwich College Suzhou: Students in Dulwich College Suzhou's Eco Council initiate many events and activities to raise awareness in the community, including planting trees, holding plants and bake sales from our school garden to raise funds for the World Wildlife Fund, and many more. They have successfully reduced paper consumption by 158,000 pages and saved over 14,000 tonnes of water.
Dulwich International High School Suzhou: We inspire and encourage our students to participate in community service projects, whether caring for the natural environment, participating in community events, or providing support to those in need. For instance, our students in the Aero Model Club support the Civil Aid Rescue Centre Zhuhai.
Dulwich College Seoul: In Seoul, our students drove the Meat-free Monday initiative to reduce emissions through reducing meat consumption and the Senior School sustainability committee are currently organising a classroom recycling programme to be implemented school-wide.
Dulwich College Singapore: Dulwich College Singapore has planted more than 35,000 trees to offset carbon emissions and is proud to be the first educational institution in Singapore committed to achieving 100% carbon neutrality in electricity consumption. WWF (World Wildlife Fund) has granted Dulwich College Singapore Silver Award to recognize our efforts in sustainability.
Climate Change, Nature and Biodiversity Loss, and Waste are the three severe challenges the current world faces. The 2022 World Environment Day on 5 June is approaching. Only One Earth calls for collective, transformative action on a global scale to celebrate, protect and restore our planet. Dulwich Schools believe that we have the power to create changes through educating students. Our message is that small actions can create huge impacts. Every drop in the ocean counts! With this belief, and true to our commitment, we are providing our children with multiple opportunities to become active global citizens and encouraging them to change the world around them by torch bearers for cultivating a thriving ecosystem.