Dulwich News丨"No Carbon November" is here!
Dulwich News丨"No Carbon November" is here!
COP26, the 2021 United Nations Climate Change Conference, is underway in Glasgow.
The gathering of world leaders, environmental lobbyists and businesses will focus on efforts to mitigate the threat of global warming and climate change.
COP26 comes on the heels of a bleak report by the United Nations Intergovernmental Panel on Climate Change (IPCC), which UN Secretary-General Antonio Guterres dubbed as "a code red for humanity"!
To do our part in making a difference for our planet, Dulwich has officially launched "No Carbon November", a sustainability awareness campaign where we bring the Green Lens spotlight to our daily lives.
Throughout November, our schools will be hosting exciting activities and events to engage their communities and encourage students, parents and staff to reduce their carbon footprints.
We also invite you to join us with daily personal actions. If you don't know where to start, take a look at our "No Carbon November Daily Actions" calendar for inspiration!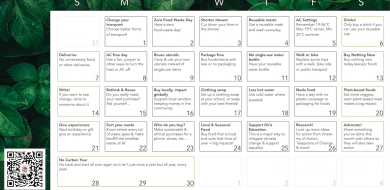 Remember, small actions x lots of people = big change!