2018 IB results at Dulwich College International: 9 perfect scores
We are proud to announce that IB students at Dulwich College International schools across Asia have achieved another year of outstanding results. Eight students at Dulwich College International schools achieved perfect scores of 45 points, an incredible achievement considering that each year only a few hundred students worldwide accomplish such a feat.
The average score at our schools in China was 37.6 out of 45, well above the world average of 29.8. Despite the rigour of the IB Diploma Programme, an impressive 29% of all our students attained 40 points or more. Two out of three Dulwich College International students taking Mandarin exams also attained perfect individual marks of 7, demonstrating the strength of our pioneering Mandarin curriculum. While these are no doubt inspiring successes, we are equally delighted that there was a 100% passing rate for those who entered the full diploma.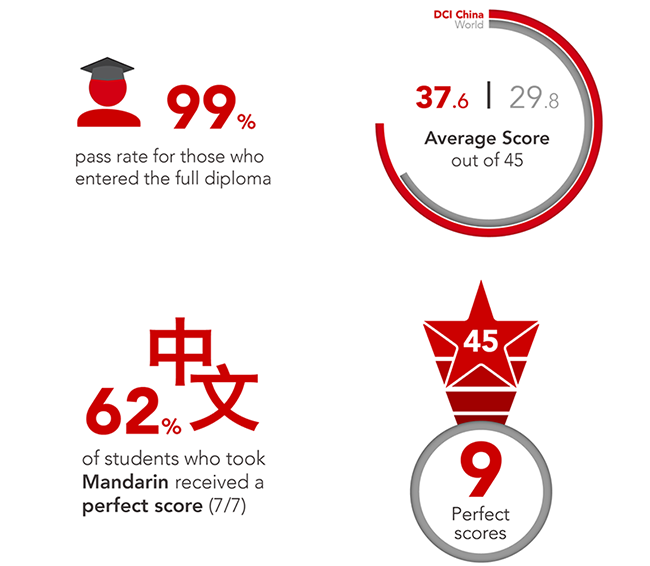 We applaud all of our students for their tireless pursuit of knowledge, and also our teachers for dedicating their time and energy into providing the best education possible for our students.
Regional Director of Education (China) John Todd commented, "We are immensely proud of our IB students and their results, which will enable them to access the best universities and opportunities around the world. Our teachers have once again enabled our students to achieve excellent exam marks, and we thank them for all their hard work and professionalism. Strong marks across a wide range of subjects and 9 perfect scores are a testament to the quality of the Dulwich programme that equips our students with the skills to succeed not just at university, but also into the next phase of their life beyond Dulwich."