Finding passion at Dulwich, grads take extracurriculars to uni
A Dulwich education is one that develops each student holistically, enabling them to discover and develop the full extent of their capabilities, talents and academic success. We encourage each individual to push their personal boundaries as learners, and provide opportunities for our students to explore the full spectrum of their personal interests beyond the traditional classroom setting.
Recent Dulwich graduates Sarah, Ben and Jason share how their Dulwich education has helped them discover passions that they will continue to pursue at university: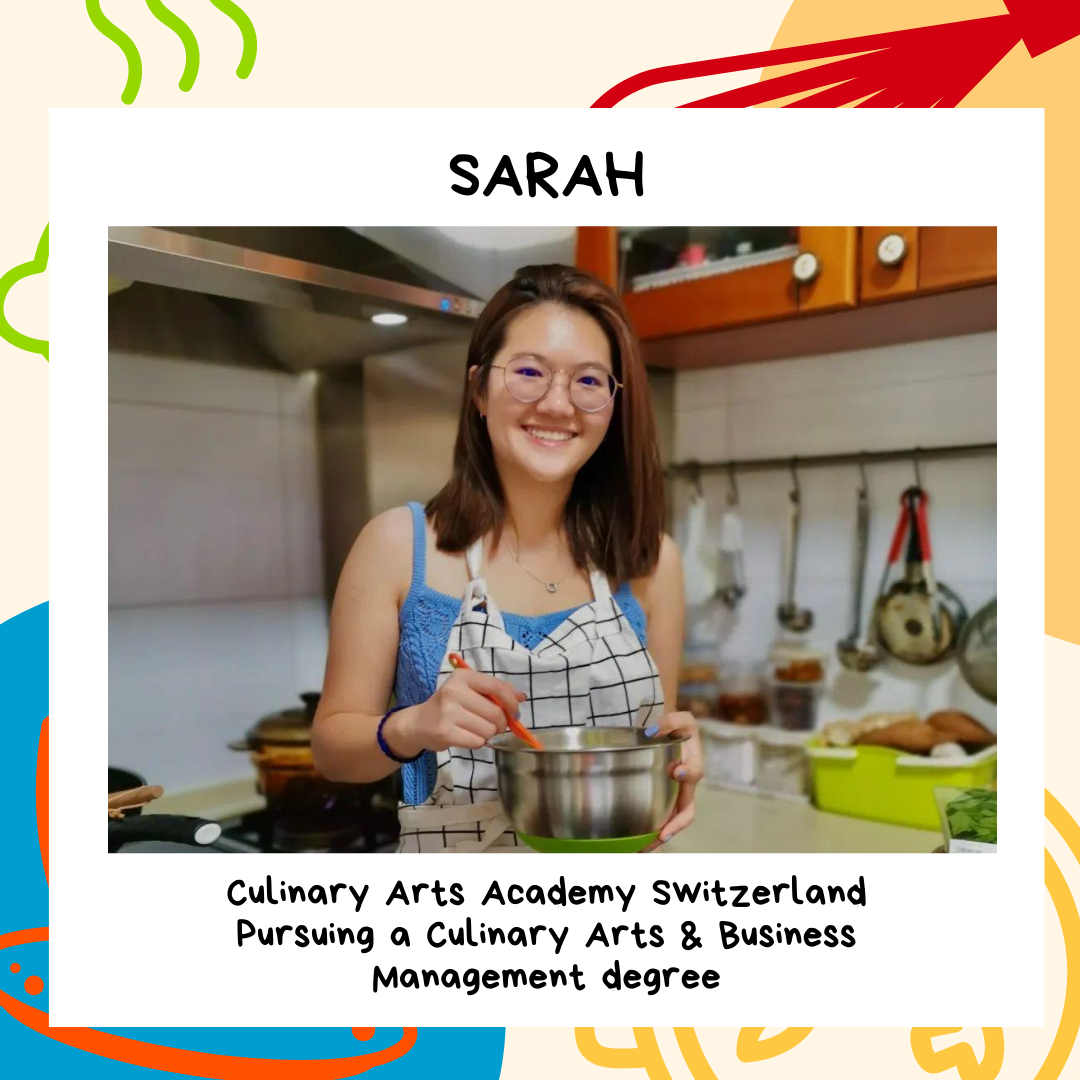 On discovering her interest in the culinary arts… My interest in food started from a young age; however, it wasn't until two or three years ago that I realised it could be a viable career option. I've always been more creative than academic, and I had many opportunities to explore that side of me – from the amateur baking extracurricular activity in Key Stage 3 to being one of the leaders of the Canteen Mural Design and leading the Baking & Cooking Club during IB. Outside of school, I would even sign myself up for baking lessons in ABC studio to broaden my experience in the kitchen.
On the factors that influenced her direction of study… I had already set my heart on pursuing culinary arts in university after IGCSE, but it wasn't until IB that I discovered my interest for business and management. What I like about the three-year course in CAAS is that it is the perfect blend of entrepreneurial learning and culinary skills. I even have a six-month internship period after year one and two.
On how the Dulwich community has influenced or supported her… Throughout my time in Dulwich, not only did I have the opportunity to find my passion, but I was also very well supported by my peers and teachers. I cannot be more grateful for my art teachers who challenged my creativity, my business teacher who helped me find my interest in restaurant management, and all the teachers that supported me throughout my time here. I will also never forget the pure excitement on Mr Harmon's (Director of University Counselling at Dulwich College Beijing) face when I revealed that I wanted to pursue culinary arts in university. Without the guidance and support of my peers, teachers and parents, I could not have made it here myself.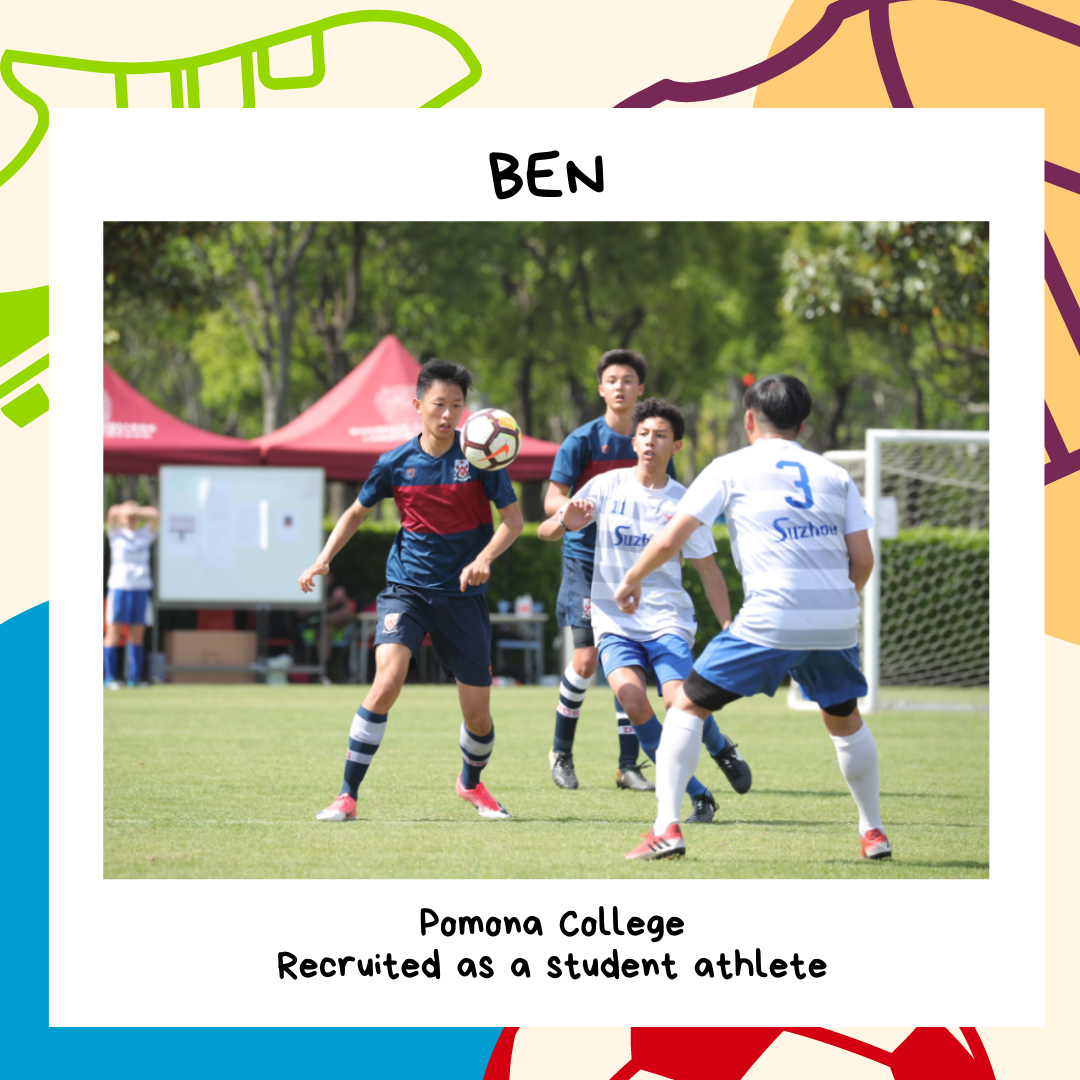 On the factors that influenced his decision to study at Pomona… I was fortunate enough to be recruited as a student athlete. When I was doing research into what schools I could attend, I was looking for somewhere I could pursue my athletic and academic pursuits on an equal level, and I found that Pomona was the perfect institution to do so. I wouldn't have to make any academic sacrifices in order to continue my athletic pursuits.
On how the Dulwich community has influenced or supported him… Within the rigour of the IB, the academic, emotional, and network support offered by Dulwich have been invaluable. Few places achieve Dulwich's balance between academic achievement and student wellbeing, and the immense effort made by all staff should be commended. Dulwich's support has been equally valuable outside the classroom; in my case, within the Dulwich Earthquakes Football Club community. In addition to their mentorship, the coaching staff's connections with coaches in both the US and the UK have been incredibly useful. With the credibility of their coaching certifications, their recommendations and testimonials were especially valuable for me as an international recruit, as my exposure to coaches abroad was limited.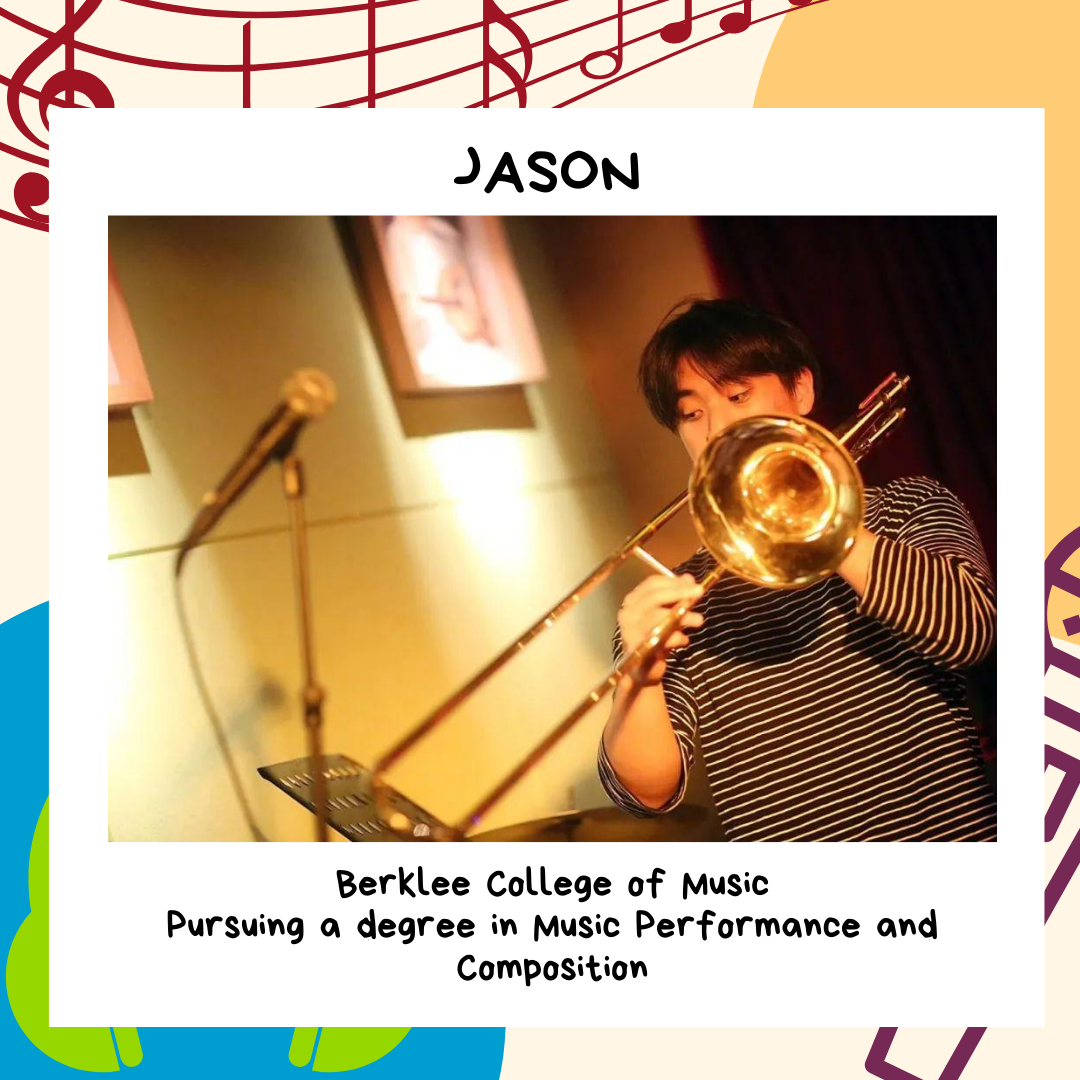 On discovering his interest in music performance and composition… Though I started learning piano before moving to China, it was my first Year 5 music lesson at Dulwich when I picked up the trombone and felt the urge to hone my skills on it. I discovered my interest in jazz when taking my first masterclass with Roy McGrath as part of the Diversity Arts series. Composing a wide range of music for ISCMS (International Schools Choral Music Society) and chatting with visiting artists like Chris Artley and Paul Jarman allowed me to mature as a composer.
On developing his interest through co-curricular activities at Dulwich… From the start of Senior School, I joined as many school music ensembles as I could and committed to them every year. Jazz Combo, a band I founded in Year 10, frequently played for external charity events and busking sessions for Project Nightingale. Music trips such as ISCMS, Dulwich Festival of Music, WABX and Dulwich Olympiad all helped me connect with musicians in other international schools. Outside of Dulwich, I had the pleasure of playing in the Beijing Blue Note Jazz Orchestra and Jazz Magic Cube Octet.
On how the Dulwich community has influenced or supported him… All the music teachers I have studied with in Dulwich have been hugely influential to me as a musician and a person in general. I cannot thank them enough for the support they have given me throughout the years. From arranging music trips and countless concerts to giving invaluable advice for the future, they were always people I could ask for help if I was struggling with band rehearsals, the Extended Essay, or college choices. My university counsellors have been a ton of help for me as I applied to both UK and US schools, and dealing with the different essays could have been overwhelming without their support.