Over a dozen International Old Alleynians (IOAs), or alumni of Dulwich College International schools, met at Dulwich College Seoul this May for an inaugural reunion in South Korea. Headmaster of Dulwich College Seoul Graeme Salt, Director of Student Journey Karen Yung and Assistant Director of University Counselling Lucien Giordano were all in attendance.
The group went to dinner afterward where they had an opportunity to network and discuss their journeys after Dulwich. IOAs from Dulwich College Beijing, Dulwich College Shanghai Pudong and Dulwich College Suzhou, many of whom were meeting for the first time, had lively conversation. It was inspiring to see two IOAs from Dulwich College Shanghai Pudong's first graduating class (2009) telling graduates from classes as recent as 2017 their stories from Dulwich through university and into the professional world.
We also heard from Hyun Sun Yang, Dulwich College Beijing '16, a student of Language and Literature at Korea University who said, "My experience at Dulwich College Beijing has inspired me to become a teacher at an international school." Alice Oh, Dulwich College Suzhou '17, described her transition from 12 years in China back to South Korea to study at Seoul National University. Alumna Dana Kim also made us proud as she described her journey from Shanghai to UC Berkeley, and finally to where she is today as a consultant for Deloitte.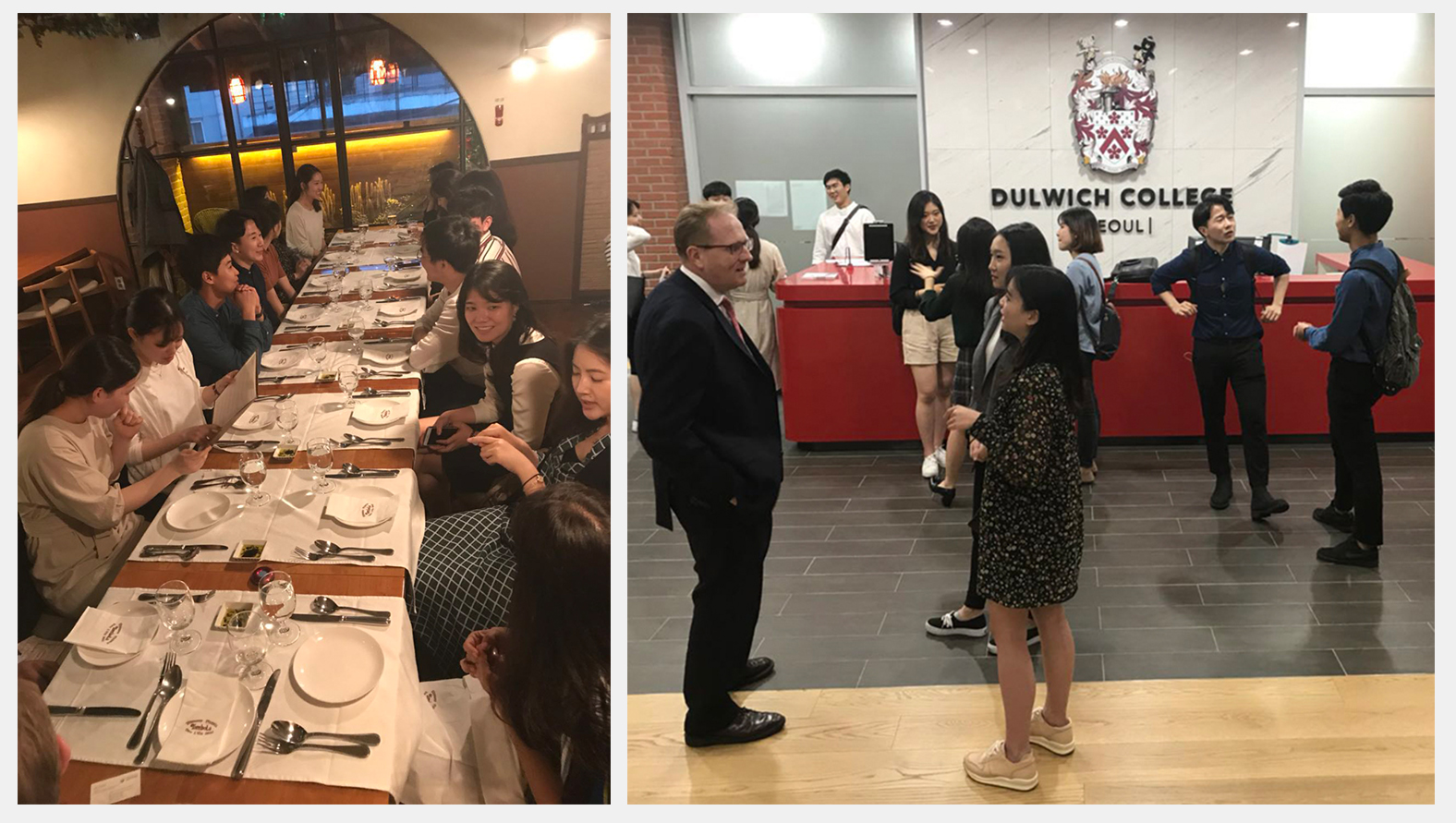 Director of Student Journey Karen Yung summed up the experience of meeting these inspiring young people by saying, "It was a real privilege for me to see how far these students have come. It was particularly heartwarming to get the opportunity to meet up with Sue and Dana who were part of our first graduating cohort, who felt that their Dulwich education mattered. As a young school group, it showed me that we are making a difference in students' lives and they do consider us as part of their family."
Sue Kim, Dulwich College Shanghai Pudong '09, who now works for a Korean insurance company's nuclear risk department, is excited to see an alumni network developing in Seoul. "I'm proud of how big the community has become," she said. "I was looking forward to this event all day and was incredibly excited to meet other alumni who experienced what I did at school." Soo Young Moon, Dulwich College Beijing '13 perhaps summed it up best when he said, "Finally! I've always wanted to meet other Dulwich students in Seoul."

As the Dulwich College International network of IOAs grows each year, we look forward to expanding the opportunities they have as part of this global family of young graduates and professionals even further. International Old Alleynians, alumni of Dulwich College International Schools, draw their name from Elizabethan actor Edward Alleyn, who founded Dulwich College in 1619 in London.