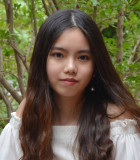 Winnie Z
Parsons School of Design (The New School)
Dulwich College Beijing
Dulwich College Beijing Class of 2016
Nationality: Canadian
Post-DCB education: Parsons School of Design (The New School), major in Fashion Design
Currently based in: New York, USA
What are you busy with these days?
I am in my second semester of my junior year at Parsons, currently focusing on creating a collection of three looks of garments for this semester's final project. I'm also gradually beginning to build up on ideas for my thesis project for my senior year, which would be to design and construct a complete collection of six looks.
What were your favourite extra-curricular roles or activities at DCB?
I participated in many extra-curricular activities and clubs that were related to art and design back in DCB. My favourite leadership role would be being one of the leaders of the Yearbook Club back in 2015 along with two of my friends.
Tell us a little bit about some internships or jobs you've had.
I interned at Cosmopolitan China last year during the summer vacation as a fashion editor's assistant. I also volunteered every season at New York Fashion Week for a few New York-based brands and got to experience helping out at runway shows as well as behind the scenes.
How has your education at DCB helped you with your university or work life?
It has definitely created a solid basis for my university life in being able to handle time management and meet deadlines. The extra-curricular activities and clubs I was a part of have also enhanced my leadership skills and the ability to collaborate with others.
What would you like to say to current DCB students?
Explore your interests and what you're passionate about, and get involved with as many activities as possible. Plan your time ahead and use it efficiently, especially over the summer or winter holidays. Try to seek opportunities for your future career or participate in a summer programme in your dream school. Have fun and don't be too stressed out!
(Updated April 2019)
---