Academic Leadership
Lucien Giordano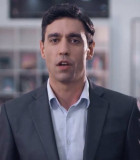 Lucien Giordano
Group Director of International Outreach and Alumni Engagement
Lucien has worked in international schools since 2005, first teaching literature and history to students in the US, UK, Egypt and China before joining our Group in 2010 to provide university and career counselling.
In 2017, Lucien took on a Groupwide University and Career Counselling (UCC) role, where he now coordinates and supports UCC programs and builds out the EiM Worldwise Alumni Network while establishing and maintaining the profile of EiM schools and partnerships with universities and other institutions to enrich student and alumni post-secondary pathways.
In addition to his work with EiM, Lucien served for three years as an elected Vice President on the Executive Board of the International Association for College Admission Counseling and two years as a Founding Chair of the International Career and College Counseling Movement's Sustainable Development Committee. In 2018, Lucien served as the Chair of the International ACAC East Asia Regional Institute. Lucien has maintained an International Reader's qualification with UCLA for five years and has read more than 2,000 undergraduate applications.
Lucien has an M.Ed in Counseling from Lehigh University (USA) with a focus on social emotional support skills in an international, multi-cultural community.
---