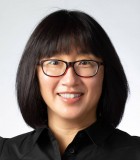 Mary Giles
Junior School & DUCKS Music Teacher
Dulwich College Suzhou
Mary Giles is a Singapore-born Australian who graduated with a Bachelor of Music Education (with honours) from The University of Western Australia. She taught music at two of Perth's prestigious schools, St Hilda's Anglican School for Girls and St Stephen's School (Duncraig & Carramar campuses), before moving with her husband and two sons to Shanghai in 2008.
Mary and her family came to China because they were very keen to learn about Chinese culture and language.
What attracted you to Dulwich College Suzhou?
The school is situated in one of China's most beautiful cities!
There is a famous Chinese saying: "Heaven above, Suzhou and Hangzhou below". Suzhou is a famous city with over 2500 years of history an it is renowned for its rich cultural history, beautiful classical gardens and canals. It is often considered to be the "Venice of the East" but given its longer history, perhaps Venice should be known as " Suzhou of the West". Suzhou is also the birthplace of Chinese Kunqu Opera, the forerunner of Beijing Opera.
Do you expect to be here for a while?
Yes. We really enjoy living in Suzhou. It is a great place for families and pets as lots of lovely parks, gardens and opportunities for outdoor adventures.
Are you interested in moving within the group to further your career?
Absolutely yes, and I have moved within the group already! This is one of the main advantages of working at a Dulwich College. It allows for this mobility. There are many opportunities for professional development and career advancement. I was formerly Head of DUCKS Music at Dulwich Shanghai and am now Head of Junior Music at Dulwich College Suzhou.
How do you find the atmosphere among the teachers in the school? How involved are you with colleagues in other DCI schools?
Great working atmosphere! I am thoroughly enjoying their company. Many colleagues have become very good friends and we have lots of social opportunities. It is very humbling to work with such amazing and creative colleagues who have great learning journeys of their own, with positive attitudes and wonderful senses of humour.
One of the greatest joys that music offers is the experience of making music with others, forming long lasting relationships with like-minded people and learning to work collaboratively together to perform with confidence.
There are many opportunities for performances and all levels are catered for. Music events are collaborative rather than competitive. In addition to in-school performances at weekly assemblies and college functions (e.g., International Day, Founders' Day, Christmas productions and concerts), our students also get to travel to Beijing, Shanghai, Seoul and overseas annually to perform in Dulwich festivals as well as FOBISIA and ACAMIS workshops.
My passion is choral music. One of the major highlights of working at Dulwich has been preparing and taking students to Vienna for more than two weeks each year to sing with the Vienna Boys' Choir, led by their musical director, Gerald Wirth. This is one of several annual music trips that students (from Year 2 onwards) can elect to participate in. Another highlight has been performing with Karl Jenkins in the Forbidden City in Beijing.
Music plays a vital role at all the Dulwich College International schools. At Dulwich College Suzhou, the music programme is centred on performance and creativity. The Music Departments from the various Dulwich Colleges have many opportunities to work together. Many have become good friends and it's wonderful to be able to share, chat, discuss and bounce ideas with them.
How do you find student engagement in the school?
Students are highly engaged, intelligent, motivated and interesting. They love to learn! Our students come from many different countries where English is not the mother tongue. There is a high degree of tolerance and respect amongst everyone here.
How much interaction do you have with parents?
One of my dreams has always been to build bridges through Music. At Dulwich College Suzhou, I started a Community Choir open to staff, parents and members of the community.
Many parents have joined the choir and we have sung within the Suzhou community. The parents are just lovely and very supportive of their children's music learning.
Do you think there is anything different about working for Dulwich compared to other schools you have worked in? Has Dulwich lived up to your expectations?
I am thoroughly enjoying the overseas experience. As a teacher, it is highly rewarding to work at Dulwich. You can really feel that you make a difference. The school has high standards and is committed to life long learning for students, staff and the community. It is a fulfilling experience to be part of such a vibrant learning environment.
There are incredible HR, Finance and Operations departments who support the staff and students.
How do you find living in China?
It is highly stimulating, fast paced and maybe challenging at times if you don't know the language. Local and foreign staff mingle very together at the school and are very helpful. The HR department and management go out of their way to help new staff feel at home when they first arrive.
---