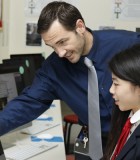 Phil Whitaker
Head of Computer Science
Dulwich College Shanghai Pudong
What attracted you to Dulwich College Shanghai?
This is my second year at Dulwich College Shanghai and I am really enjoying it.
My previous school was in the Middle East, where I lived for six years. I was Head of the Computer Science Department so moving was a very big decision for me and I wanted to make sure it was the right one.
There were a number of schools in Asia that I was looking at. I was quite sure I wanted to move to the Far East and after a lot of research and conversations with colleagues who had worked in the region, Dulwich College Shanghai stood out head and shoulders above the rest.
Another thing that attracted me to the post was the opportunity to set up a new Computer Science department. The subject used to be ICT and to be able to facilitate the change to Computer Science in the Senior School I thought looked like a challenge. It was a challenge last year but I am pleased to say that has been a really enjoyable aspect of joining Dulwich College Shanghai.
How do you find the atmosphere among the teachers in the school? How involved are you with colleagues in other DCI schools?
Three words spring to mind. They would be: extremely professional, dedicated but also very friendly. I came to Shanghai as a single person with no dependants, and possibly slightly apprehensive of needing friends, especially in a community where there were lots of families but everyone has been really welcoming.
The professionalism strikes you when you come in. It is a very friendly community but also very hard working. Everyone is very dedicated to their job and I think that is because it is such an enjoyable place to work; in terms of the students we are working with day to day - their passion and enthusiasm to come to school really makes you want to do the best you can for them. I would say it is a very positive atmosphere among the staff here.
How do you find student engagement in the school?
I've been working in international schools for over ten years now. I have found that in most international school settings there is a very family orientated atmosphere and Dulwich College Shanghai is no different in that regard. Having taught in a number of different international schools I can, hand on heart, say that the level of engagement here at Dulwich College Shanghai is the best I have ever seen. The student engagement, their interaction with their teachers and with their peers is really amazing. It is very easy to say but when you are here and experiencing it on a day-to-day basis it really is a wonder to behold. It makes coming to work very enjoyable.
How involved are you in co-curricular activities? Which ones do you do?
I am involved in a number of co-curricular activities, some take place after school and some take place during lunchtime. At the moment I run a Robotics co-curricular activity with a Senior and a Junior team. There are about 30 students involved and I have been very lucky to have parental help with that. I also run a club called App Inventor, which is part of the Dulwich College Shanghai service initiative. We are looking at creating apps on tablet devices for children in Nepal and Africa. That keeps me very busy. It is more STEAM learning and teaching which is slightly outside of the Computer Science curriculum and that has been really enjoyable to be involved with.
---